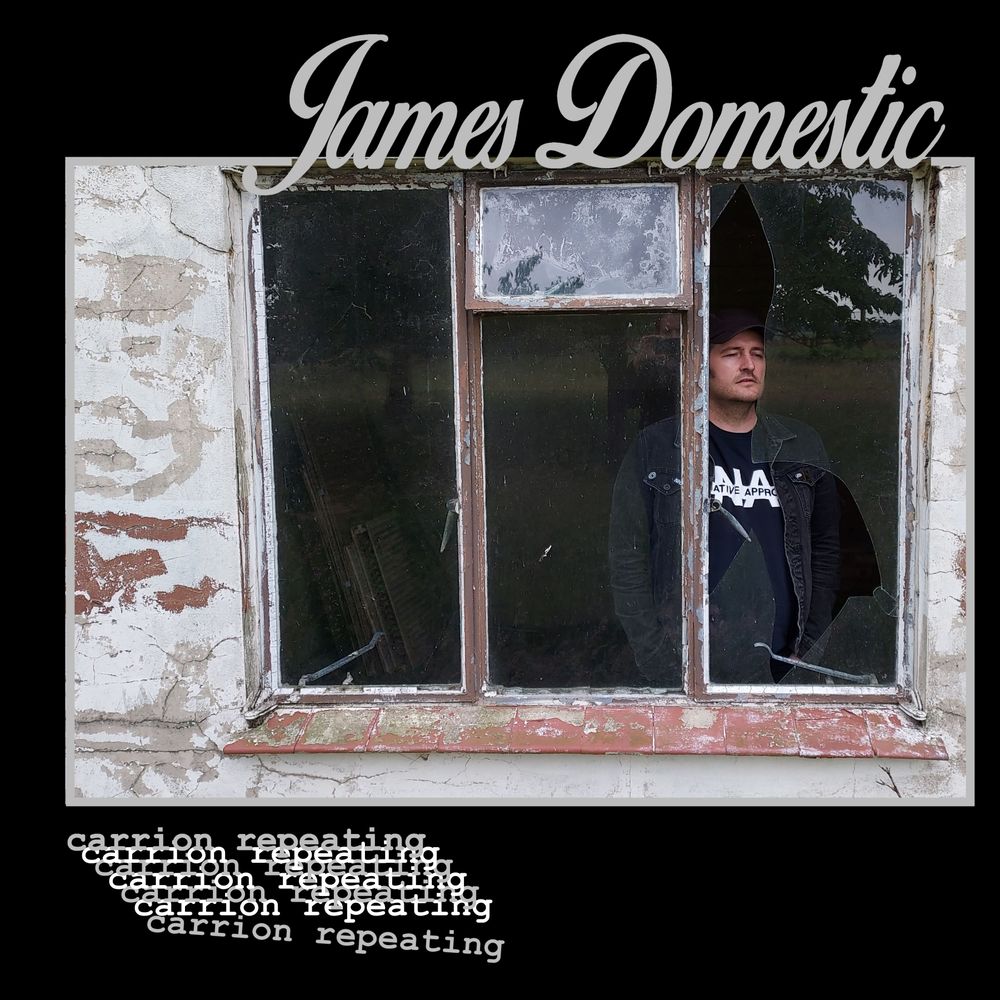 CARRION REPEATING REVIEWS
"...he's learned to contort punk paradigms into strange new shapes, a talent that comes to full fruition with Carrion Repeating.  James' debut solo effort owes more to Ian Dury and Sleaford Mods than Discharge...songs that offer a kind of surrealist, working class escapism that perfectly marries subject and medium" (8/10)(Bruce Turnbull, Vive Le Rock)
"Suffolk-based James Scott is in more bands than there's space to list here, most notably punk outfit The Domestics. His solo debut is a complete treat that deserves to garner the kind of following Sleaford Mods have built up. Not that it's a ringer for Sleaford Mods (although there is something of their DNA in his sometimes lairy geezer-ish delivery). James Domestic has more in common with Ian Dury, chatting his way through songs, with witty Cockney panache, applied to subjects ranging from "Weekend Carbs" to crafty, greedy businessmen ("Bean Counter" – "You're a cunt that can count"!). What makes it all fully work, however, is the sparse purposeful instrumentation, lo-fi new wave pop decorated with oddball synth, here and there, and vocal backing and interludes from singers Clare Gillet and Lucy James. Well-produced and mastered to vinyl, Carrion Repeating is lively-minded, cheeky, funny and engaging from start to finish." ("Vinyl of the Month". Thomas H. Green, The Arts Desk)
"With today being a holiday here in the U.S.A., I am seizing the opportunity to write about an album I've been enjoying for several weeks now. Carrion Repeating, the new full-length recording from James Domestic, is described as "post punk pop music for weirdos." Domestic, well-known for his screaming brilliance in a multitude of teeth-smashing hardcore punk bands, has taken a very different route with this solo endeavor. You could say that Carrion Repeating doesn't quite fit with the music I usually review. But that's because it doesn't quite fit with any other music, period. It's in a category of its own. 
As I try and pinpoint what makes this album so appealing to me (beyond the obvious uniqueness and creativity), I keep coming back to one thing. Carrion Repeating is not just a musical creation with the feel of a work of literature -- it's a musical creation that is a work of literature. Lyrically, these 11 tracks read like the  most fascinating and wonderfully disturbing diary entries you could ever hope to come across. Yet the music is never an afterthought. Although Domestic speaks most of the lyrics, this isn't a spoken word album. The music for each track seems meticulously crafted to match the tone of the vocals and lyrics (or is it the other way around?). Musical influences range from post-punk to dub to new wave pop to reggae to krautrock to soul to Brit-pop, yet the greatest influence is the twisted mind of James Domestic. He has created something rare in this day and age: a true album as opposed to a mere collection of songs. 
In the hands of a lesser artist, this mish-mash of musical styles might come off disjointed or ill-conceived. But Domestic pulls it off splendidly, crafting weird songs that are genuinely enjoyable to listen to. The musings, observations, stories, and ravings which comprise this album create a bleak but bang-on picture of human existence: we are pitiful creatures living out disappointing, pointless lives which we are almost entirely powerless to change. "Are you a right fucker or just a fuckee?" is about as good of an opening line as you'll ever hear on a record and certainly the perfect tone-setter for this one. By turns humorous, angry, and matter-of-fact, Domestic's delivery of these songs is what really makes this album. Whether he's passing judgement on joyless tourists, lashing out at soulless bean-counters and cold-hearted exes, or painting a vivid metaphor out of human viscera, he does so with a unique and strangely likeable style. If you only know of James Domestic from the various bands he fronts, you may be surprised by what you hear. One of the year's finest LPs!" (Faster & Louder, U.S.)
"There's so much to like here.  Laser-sharp observations of the current absurdities of the human condition delivered with razor-sharp, venomous wit and intelligent post-punk poetics, from one-liners – "I do evil in discreet doses" (to rhyme with "urohydrosis"!) and "have a strong cheese word with yourself, mate", through Bean Counter's ferocious disdain, "you can barely do anything that any sentient being can't do/And I'm including livestock in that/Even Kev could out-moo you/and he's as thick as shit", to pretty much all of Push on Through.
Opener Itchy Itchy's juxtapositions remind me of Leonard Cohen's Is This What You Wanted? Translated into a language that rhymes "Lidl" with "middle".  Other highlights are Holiday – "Ticking the sights off…it's like a military exercise…Is this your holiday? 'cause it looks like work to me" and Is That You? ("Looking strangely hot, though I know you're cold/Your bloke arrives, he's like Michael Douglas, old".
That's the knack of great writing: not showing off how clever you are, but identifying the poetic potential of everyday speech.  This also characterises Domestic's very engaging vocal performance, too." (RNR Magazine)   
"Known chiefly for his involvement in a string of hardcore, d-beat, and garage DIY punk bands, James Domestic turns to his solo project to kick back and indulge his more experimental leanings.
From the off, it's clear how important space is. James utilises his knowledge of dub reggae to allow these tracks room to breathe, this patient use of space reaching its pinnacle on the delightfully languid Weekend Carbs. A lazy, Sunday afternoon workout, reminiscent of a meandering MADNESS b-side, an IAN DURY-esque vocal weaving its way throughout. The songs featuring the vocals of Clare Gillett also benefit from this room to breathe. Their use is minimal but crucial, particularly on a pointed observation on human behaviour such as Holiday. Clare's soothing voice accompanies James' casual intonations over a steady beat, reggae bass, keyboard nips and occasional cutting guitar. Push On Through's (reviewed here) stark repetition captures the madness of bleary-eyed, late night drives before jerking you awake with needle-points of loud guitar. Clare's biggest showing though, is on final track Never Enough. She can't help but get all soulful on this catchy piece of indie-funk. Incidentally, this song, along with procrastination hymn Mañana (reviewed here), sees James berate himself for not getting shit done. Incredible, considering his prodigious output.
Before all that, Itchy Itchy opens the album in fine style.  A cheeky spoken-word piece set to jerky, minimalist dance-pop, this effective stage-setter is powered by an insistent drum beat, stabs of guitar, and catchy keys.  Elsewhere, things get a little outre on Casual Vulture and Giblets.  The former's all electronic beats, bleeps, disorientating keyboards and minimal bursts of guitar, while the latter has echoey jabs of noise and a weird obsession with the word "giblets". Bean Counter is the closest you'll get to anything resembling James' more orthodox bands but it ain't that close.  Chugging garage rock with a spoken/shouted vocal and minimal keys, accountants will love it - "You're just a cunt who can count"! Faze Out (reviewed here) isn't too far behind, a vibrant, fuzzed-out garage stomper with wonky keyboards.  There's more on offer across this album but you need some surprises, right? Let's just say steel drums and a twisted children's TV theme-alike (Is That You?) are just some of the other treats scattered throughout these grooves.
Eccentricity abounds on Carrion Repeating, as James flits between languorous spoken word, frustrated dalek and angry raver. The music is gleefully idiosyncratic, with an eye for hooks amid playful instrumentation. A left-field pop sensibility, akin to the Stiff Records sounds of the late 70's, wedded to a jaded, contemporary worldview pervades throughout as James plays around with space, echo, dub and minimalism. The end result is an eccentric yet accessible quirk-pop ride, a raised eyebrow around every corner. Experimentation, not alienation." (Personal Punk blog)
"James Domestic (James Scott) isn't one to rest on his laurels. The frontman of hardcore punk band, The Domestics, he has a list of other bands/side projects the length of your arm, Carrion Repeating is his first solo offering which he describes as "post-punk pop music for weirdos".
How would I describe this solo project? Let me try… To me the album lives in a place somewhere between the cockney geezer swagger of Ian Dury, living in a world of John Cooper Clarke observational poetry and all bundled up with a soundtrack like the coming together of The Fall and Sleaford Mods.
The album title is also a fair representation of the place where the song-writing comes from. He demonstrates a very British humour, mini kitchen sink dramas put to music if you will. Domestic's stories are presented with an acidly sardonic wit, delivered in a laidback but beguiling manner.
Throughout the album, on songs like Weekend Carbs and Holiday, his exploration of little British idiosyncrasies is acutely well observed, on Holiday observing a particular inability to switch off and enjoy a holiday for what it should be, and Weekend Carbs pretty much telling the story of my life…
The basis of the majority of the music on the album is a sparse electronic beat over which Domestic lays his wry lyrics, delivered mainly, but not always, in spoken word. Songs like Faze Out filling out the electronic base with punk guitars and a venomous vocal delivery.
The anger isn't just felt on Faze Out, Casual Vulture comes complete with sinister undertones while Bean Counter comes straight in with in your face with menacing guitar riffing and lyrics delivered with a healthy level of vitriol.
There is also a heavy dose of underlying messaging around mental health woven through some of the seemingly innocent tales of everyday life. Manana, with its Parklife era Blur feel, with glorious added sax, talking about plans for action and the future but with a feeling of malaise – "I'm a big fat trucker and I need to lose weight but its not gonna be today" and Push on Through, a song about driving through the night but with the chorus sung in such a manner that it feels like a elegy for life.
A heartily enjoyable album following in the vein of artists like Dead Sheeran that I've been thoroughly impressed with over recent years." (The Ginger Quiff)
"It's almost a reaction to the years of brutal hardcore he's screamed and released. Those hours of throat wrenching vitriolic anger fronting The Domestics, PI$$ER, Froggy & The Ringes, Krapp, Tokyo Lungs, Bring The Drones, Dis-Tank and Botched Toe (just to name a few!!!). Yes, this is the softer side of James Domestic (kind of). There's actually spaces within the songs and no need to print the lyrics as you can (almost) understand them. I say 'almost' as you have to decipher an accent usually only heard in Guy Ritchie films.
As if the gobby mercenary of Suffolk hasn't said enough already, he's put words and music to vinyl and the results make compelling listening. Carrion Repeating is an album of eleven genre-less observational tracks, documenting our pitiful existence. To quote rail punks Eastfield: "This is not punk, this is not funk, this is not disco, This is not soul, this is not dance, this is not techno". No, it's a homeless pigeon (or carrion) that cannot be holed.
It was written under self-control on weekend carbs with minimal music rather than the max volume guitars and drums we are used to. A seaside organ is prevalent throughout, and it actually works! You can almost visualise James stepping out from behind fake gold lamé curtains in an alternative Phoenix Nights reality to perform this album live in a perfunctory manner. The audience are nonplussed as the truth about their wallpaper lives are sung at them, resigned to the fact that their week in Prestatyn is as good as it gets.
The absurdity of first world problems is highlighted here with both venom and humour. From the weird middle aisle in Lidl's to rep-sanctioned visits on holiday. You find yourself nodding in agreement at the pettiness of it all, chuckling along with the one liners and making a mental note to change little things in your own existence.
Faze Out and Mañana were tasty teasers released last year (with videos) on the Kibou Records bandcamp page and provided the precursor of what we have today. Carrion Repeating opens with Itchy Itchy and the tone is set with the question, "Are you a right fucker or just a fuckee?"… Well, which one are you?
There's a special edition version of the Carrion Repeating LP on blue/silver coloured vinyl, with 4 page 12″ X 12″ lyric booklet and two exclusive limited edition postcards and an exclusive limited edition bookmark. Get it today…" (Louder Than War)
"The HC-Punk Master himself now with an exceptional solo album. James Domestics is known far beyond England as the singer of bands like the DOMESTICS, TOKYO LUNGS, FROGGY & THE RINGES, PI$$ER, KÖRD VÄRLD, BOTCHED TOE and half a dozen more. But now these new songs are going into a completely different musical direction, which I also like very much. On "Carrion Repeating" James shines with his very distinctive deep voice, where he sounds very much like the ranting SLEAFORD MODS singer wth the an English accent which we all love, without copying their song structures. The JAMES DOMESTIC songs somehow come across totally laid-back, like when you´re listening to such songs after a night out partying, while sitting on a roof / balcony waiting for the morning sunrise. Or like the song "Push on through", where you can imagine yourself cruising slowly through the concrete deserts of your own fucked-up city in your car with the car-windows rolled down. As you can imagine the music of JAMES DOMESTIC quickly triggers associations. The music is especially appealing because of its pleasant rhythms as well as the electronic and conventional bass-drum-guitar instrumentation. The mix of post-punk, krautrock, psychedelia, soul, funk, reggae and punk simply flatters your moods. Helge Schreiber (8 out of 10 possible points)" (translated from the original German in Ox Fanzine)
"...everything from punk, post punk, art punk, reggae, funk and much more digested in his inimitable DIY driven invention…the peculiarity and multifarious invention of Carrion Repeating setting it magnificently apart from the history of James' past endeavours and anything in the world of songwriting and sound right now. Carrion Repeating is a joy in sound and word" (The Ringmaster Review)
"James Domestic is a gob on a stick, a one man musical and lyrical riot Carrion Repeating is his debut album and it is a mashed up musical revolution and revelation, which owes as much to soul, reggae and electro-pop as it does to punk. Ranting 'n' chanting shouty social and political content 'n' comment over a barrage of keyboard sounds, rhythms and roarcuss guitars mix it up with Euro-Pop beats and soulful sounds. Not so much Sleaford Mods, more East Anglian Hardcore, like a punch up between Dan Treacy, Patrik Fitzgerald and Attila The Stockbroker..." (Nuzz Prowling Wolf blog)
"James on tracks like "Itchy Itchy" and "Holiday" offers either a high street poet vocal, Ian Dury growl with a bored snarl that makes Blur's "Park Life" sound like half arsed low sugar commentary, or does a huge rock front man roar. Like a 21st Century Island hopping Punk Philip Larkin "Holiday" is sharply observed, laying into the tourist clichés, offering real life alternatives...an album's worth of jagged observations and insights, delivered by a Punk Peter Cook, captivating and unique." (Marc Higgins, Time Past & Time Passing)
"Rap poetry. Hardcore. Garage punk. Warning sirens, klaxons screaming through the night skies. These are stripped back recordings full of stories from the streets/real lives. "Take a little bit from over there, and wreck it!" It's unremitting material, thrown up from the territorial lands of the Arctic Monkeys, Sleaford Mods, early Mister Rotten and Prodigy." (International Times)
"If it wasn't for a single released earlier this year, I would have been totally surprised by this album. James Domestic is in a number of bands and is mostly renowned for creating a rip-roaring racket. Carrion Repeating finds Domestic hitting a number of different musical bases including post-punk, soul, funk, and punk to bring together an outlet for his wry musings on life. The vocals are delivered in a variety of tones—sometimes angry, occasionally bemused, and often sarcastic. Humor runs through the lyrics though and the assorted musical accompaniments ensure this never gets stale. Interesting and enjoyable." (Razorcake, U.S.)
"Well, no-one could accuse James of being lazy, the man has fingers in so many pies that it's hard to keep count.  Probably most well known as the frontman of THE DOMESTICS, that hard, hardcore band from East Anglia.  Now, a very interesting solo album, he's written and sung all the songs and I'm guessing he's done most of the music (but there are a few guest spots by other musicians).  I had no idea what to expect, even so I was surprised.  It's different that anything he's done before and it is wonderfully quirky.  Not mega heavy or mega fast, but it has so much going for it that there's no need about those minor details.  I guess it might be a "marmite" album – I am deffo a lover of this one.  PS: Also contains a fantastic lyric/info sheet." (Issue Fanzine)     
"Many moons ago I was the passenger in Jas Toomer's car as we headed to some gig in some backwater corner of the 90s East Midlands Punk scene and the tape that he had blaring out was packed with all manner of oddness – Slayer followed by Danny and The Dressmakers followed by The Who followed by Billy Childish then some northern soul, Infest, AC-bloody-DC, Penetration and lorks knows what else. "Jinkees Jas! This is most certainly an eclectic roster you have knocked up here my good friend" quipped I. "Well, I get easily bored Marv so have to keep things varied" Roland informed me and you know what? Fair enough thought I. Fair enough. Not only that, a week later, when next our paths crossed, Mr Toomer had only gone and knocked up a tape called "Eclectic Roster" for me. So impressed was he with my term "Eclectic Roster" he was inspired to put together 90 minutes of bands and what have you that had absolutely nothing in common at all. There's even some Ennio Morricone sound track stuff on there … Yes, I still have it. What has this tall tale of Toomer tapes gotta do with this new solo LP from Mr Busy himself I hear you ask? Well, an "eclectic roster" is a most obvious starting point when describing this "nothing like The Domestics" solo LP by the singer from The Domestics (amongst many other noise units.) Influences and sounds are very much nowhere near the Out Cold/Discharge/Gauze type mayhem one is accustomed to hearing from the Kibou Kid! Right from the off it's quite obvious that "Carrion Repeating" shares a slither of DNA with bedroom DIY bands like Bis, the grim laptop tirades of Sleaford Mods and spoken word, putting the world to rights of John Cooper Clarke if he was supping a pint in the same pub as Ian Dury and his geezer-y gang of Blockheads. "Itchy Itchy" is a relative upbeat opener with a fuzzing guitar and disdainful spoken vocal asking a series of rhetorical questions. Then he shouts "Sausage" which will always be met with approval in this house. I do enjoy shouting Sausages at inopportune moments. Who doesn't eh? "Holiday" has a very downbeat 80s synth pop tune beep beeping away while our narrator recoils in horror at a sandals and socks tourist. Who is happier though? The miserable bugger lording it up over the holiday maker or the dullard on a two week break from the rat race quite oblivious and totally happy with his lot in life? A vocal then wafts in that – and this is a high compliment indeed from Gadgie Towers – has a bit of a latter day Debbie Harry feel to it. "Casual Vulture" is very much a Sleaford Mods like rant with a scathing riff sliding in and out whenever it can be arsed. "I'm gonna pick your bones clean" and an eerie keyboard has us sat in a dark and damp bedsit of Broken Britain and while "Giblets" is perkier in a Casio keyboard sort of way, the sardonic vocals and lyrics not exactly cheering proceedings up. "Bean Counter" sounds as if, initially at least, we are in for a raucous guitar led romp, but no, we are in for a romp indeed, but it's a mad electropunk work out that would not appear out of place on a lost tape by some obscure KBD type band like Whippets From Nowhere and is certainly the angriest and most "Mods-y" moment on here. In contrast "Weekend Carbs" is a relatively whimsical imagining of what might happen if Television Personalities had a Kraftwerk phase. Maybe they did? I don't bloody know. "Is That You?" sounds like it's taken from some weirdo, and probably emotionally damaging in later life, kids telly show from the 70s. There'd probably be dungarees involved. And corduroy. On top of this you have the three singles we've already been accosted with: "Manana" is almost a perky pop song in a Prime Time/Elastic definition of "pop song" that is. "Faze Out" is anything but perky with its bleak, locked down, cold, alienated, Brexit Britain dystopia while the electro zonking of "Push On Through" veers in to ambient washes of weird. After a few listens – and the three previews I had already encountered prepared me for it – I reckon the whole album holds together really well and it's clear that a great deal of thought and imagination has gone in to drawing on as many musical influences as possible outside of the usual Punk racket. Krautrock, ambient, electro, synth pop, synth punk, new wave and of course, the bands mentioned previously … it's a proper rum do I have to say. Sound wise it's Punk but not as we know it – the tunes are peculiar, jarring, kitchen sink chaos and often have you wondering what in the name of The Law Giver possessed him, but these are all good things I'll add. One of the more unusual and interesting releases that have arrived at the Thrash Parlour of late … Yeah. Recommended for you weirdoes out there." (Gadgie)