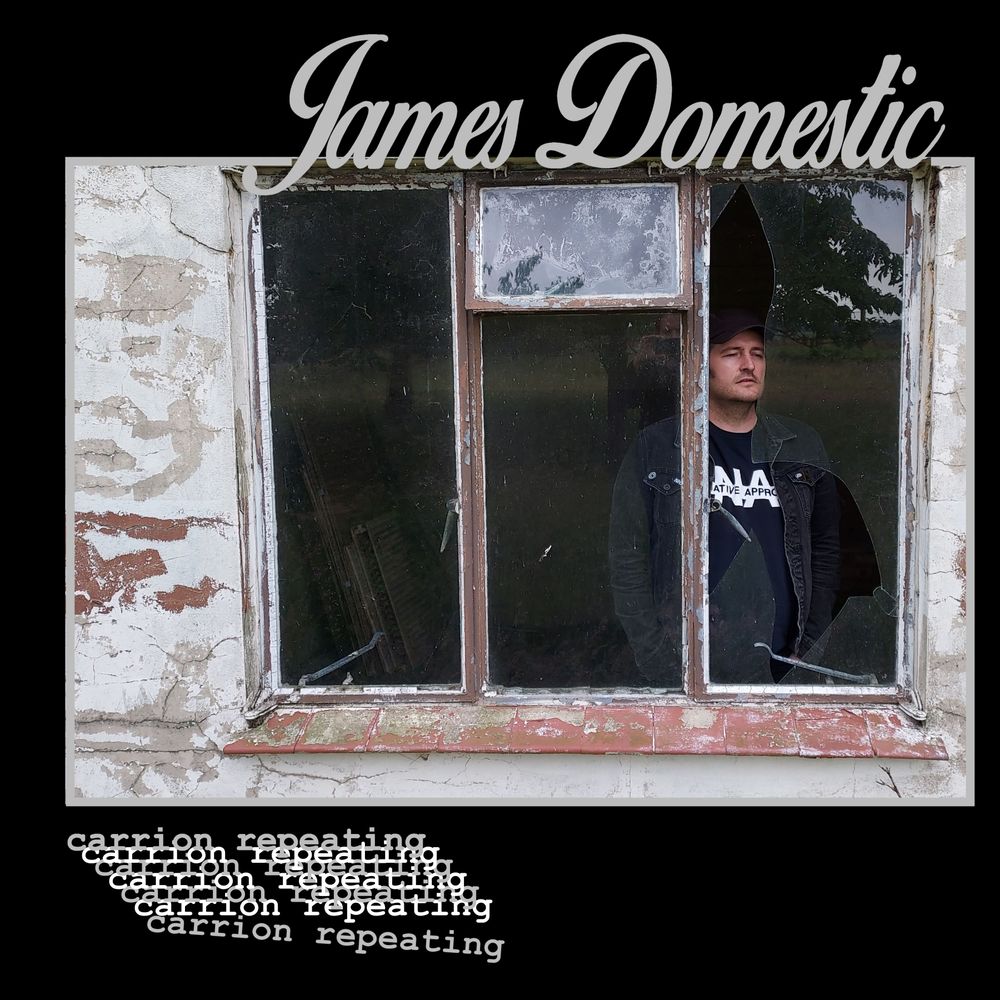 CARRION REPEATING
"...he's learned to contort punk paradigms into strange new shapes, a talent that comes to full fruition with Carrion Repeating.  James' debut solo effort owes more to Ian Dury and Sleaford Mods than Discharge...songs that offer a kind of surrealist, working class escapism that perfectly marries subject and medium" (8/10)(Bruce Turnbull, Vive Le Rock)
"Suffolk-based James Scott is in more bands than there's space to list here, most notably punk outfit The Domestics. His solo debut is a complete treat that deserves to garner the kind of following Sleaford Mods have built up. Not that it's a ringer for Sleaford Mods (although there is something of their DNA in his sometimes lairy geezer-ish delivery). James Domestic has more in common with Ian Dury, chatting his way through songs, with witty Cockney panache, applied to subjects ranging from "Weekend Carbs" to crafty, greedy businessmen ("Bean Counter" – "You're a cunt that can count"!). What makes it all fully work, however, is the sparse purposeful instrumentation, lo-fi new wave pop decorated with oddball synth, here and there, and vocal backing and interludes from singers Clare Gillet and Lucy James. Well-produced and mastered to vinyl, Carrion Repeating is lively-minded, cheeky, funny and engaging from start to finish." (Thomas H. Green, The Arts Desk)
"Known chiefly for his involvement in a  string of hardcore, d-beat, and garage DIY punk bands, James Domestic turns to his solo project to kick back and indulge his more experimental leanings.
From the off, it's clear how important space is. James utilises his knowledge of dub reggae to allow these tracks room to breathe, this patient use of space reaching its pinnacle on the delightfully languid Weekend Carbs. A lazy, Sunday afternoon workout, reminiscent of a meandering MADNESS b-side, an IAN DURY-esque vocal weaving its way throughout. The songs featuring the vocals of Clare Gillett also benefit from this room to breathe. Their use is minimal but crucial, particularly on a pointed observation on human behaviour such as Holiday. Clare's soothing voice accompanies James' casual intonations over a steady beat, reggae bass, keyboard nips and occasional cutting guitar. Push On Through's (reviewed here) stark repetition captures the madness of bleary-eyed, late night drives before jerking you awake with needle-points of loud guitar. Clare's biggest showing though, is on final track Never Enough. She can't help but get all soulful on this catchy piece of indie-funk. Incidentally, this song, along with procrastination hymn Mañana (reviewed here), sees James berate himself for not getting shit done. Incredible, considering his prodigious output.
Before all that, Itchy Itchy opens the album in fine style.  A cheeky spoken-word piece set to jerky, minimalist dance-pop, this effective stage-setter is powered by an insistent drum beat, stabs of guitar, and catchy keys.  Elsewhere, things get a little outre on Casual Vulture and Giblets.  The former's all electronic beats, bleeps, disorientating keyboards and minimal bursts of guitar, while the latter has echoey jabs of noise and a weird obsession with the word "giblets". Bean Counter is the closest you'll get to anything resembling James' more orthodox bands but it ain't that close.  Chugging garage rock with a spoken/shouted vocal and minimal keys, accountants will love it - "You're just a cunt who can count"! Faze Out (reviewed here) isn't too far behind, a vibrant, fuzzed-out garage stomper with wonky keyboards.  There's more on offer across this album but you need some surprises, right? Let's just say steel drums and a twisted children's TV theme-alike (Is That You?) are just some of the other treats scattered throughout these grooves.
Eccentricity abounds on Carrion Repeating, as James flits between languorous spoken word, frustrated dalek and angry raver. The music is gleefuly idiosyncratic, with an eye for hooks amid playful instrumentation. A left-field pop sensibility, akin to the Stiff Records sounds of the late 70's, wedded to a jaded, contemporary worldview pervades throughout as James plays around with space, echo, dub and minimalism. The end result is an eccentric yet accessible quirk-pop ride, a raised eyebrow around every corner. Experimentation, not alienation. (Personal Punk blog)
James Domestic (James Scott) isn't one to rest on his laurels. The frontman of hardcore punk band, The Domestics, he has a list of other bands/side projects the length of your arm, Carrion Repeating is his first solo offering which he describes as "post-punk pop music for weirdos".
How would I describe this solo project? Let me try… To me the album lives in a place somewhere between the cockney geezer swagger of Ian Dury, living in a world of John Cooper Clarke observational poetry and all bundled up with a soundtrack like the coming together of The Fall and Sleaford Mods.
The album title is also a fair representation of the place where the song-writing comes from. He demonstrates a very British humour, mini kitchen sink dramas put to music if you will. Domestic's stories are presented with an acidly sardonic wit, delivered in a laidback but beguiling manner.
Throughout the album, on songs like Weekend Carbs and Holiday, his exploration of little British idiosyncrasies is acutely well observed, on Holiday observing a particular inability to switch off and enjoy a holiday for what it should be, and Weekend Carbs pretty much telling the story of my life…
The basis of the majority of the music on the album is a sparse electronic beat over which Domestic lays his wry lyrics, delivered mainly, but not always, in spoken word. Songs like Faze Out filling out the electronic base with punk guitars and a venomous vocal delivery.
The anger isn't just felt on Faze Out, Casual Vulture comes complete with sinister undertones while Bean Counter comes straight in with in your face with menacing guitar riffing and lyrics delivered with a healthy level of vitriol.
There is also a heavy dose of underlying messaging around mental health woven through some of the seemingly innocent tales of everyday life. Manana, with its Parklife era Blur feel, with glorious added sax, talking about plans for action and the future but with a feeling of malaise – "I'm a big fat trucker and I need to lose weight but its not gonna be today" and Push on Through, a song about driving through the night but with the chorus sung in such a manner that it feels like a elegy for life.
A heartily enjoyable album following in the vein of artists like Dead Sheeran that I've been thoroughly impressed with over recent years." (The Ginger Quiff)
"...everything from punk, post punk, art punk, reggae, funk and much more digested in his inimitable DIY driven invention…the peculiarity and multifarious invention of Carrion Repeating setting it magnificently apart from the history of James' past endeavours and anything in the world of songwriting and sound right now. Carrion Repeating is a joy in sound and word" (The Ringmaster Review)
"James Domestic is a gob on a stick, a one man musical and lyrical riot Carrion Repeating is his debut album and it is a mashed up musical revolution and revelation, which owes as much to soul, reggae and electro-pop as it does to punk. Ranting 'n' chanting shouty social and political content 'n' comment over a barrage of keyboard sounds, rhythms and roarcuss guitars mix it up with Euro-Pop beats and soulful sounds. Not so much Sleaford Mods, more East Anglian Hardcore, like a punch up between Dan Treacy, Patrik Fitzgerald and Attila The Stockbroker..." (Nuzz Prowling Wolf blog)
"James on tracks like "Itchy Itchy" and "Holiday" offers either a high street poet vocal, Ian Dury growl with a bored snarl that makes Blur's "Park Life" sound like half arsed low sugar commentary, or does a huge rock front man roar. Like a 21st Century Island hopping Punk Philip Larkin "Holiday" is sharply observed, laying into the tourist clichés, offering real life alternatives...an album's worth of jagged observations and insights, delivered by a Punk Peter Cook, captivating and unique." (Marc Higgins, Time Past & Time Passing)
"Rap poetry. Hardcore. Garage punk. Warning sirens, klaxons screaming through the night skies. These are stripped back recordings full of stories from the streets/real lives. "Take a little bit from over there, and wreck it!" It's unremitting material, thrown up from the territorial lands of the Arctic Monkeys, Sleaford Mods, early Mister Rotten and Prodigy." (International Times)