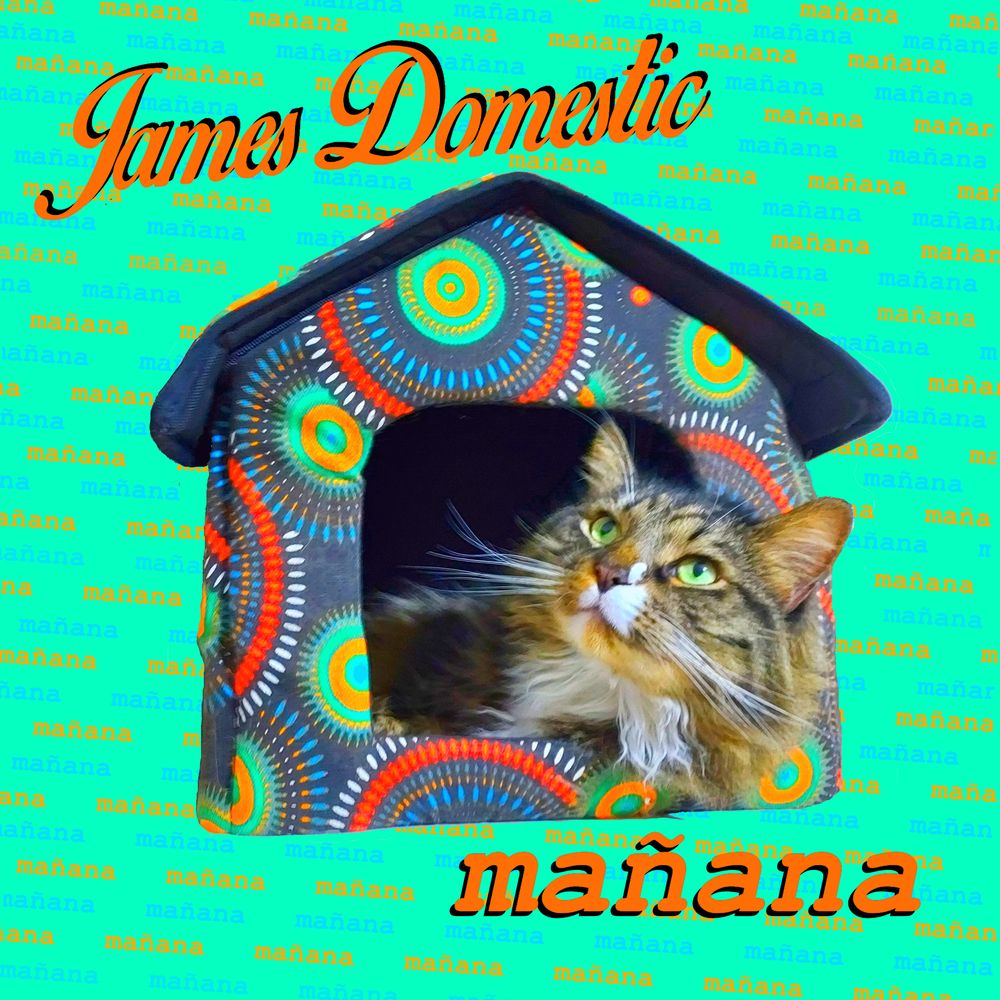 "James kicks off 2022 with the third single from his forthcoming solo album. 'Mañana' sees The Domestics' frontman taking another sonic direction, there's a lo-fi garage rock vibe meets Blurs Parklife meets a bit of West Londons Taurus Trakker about proceedings. The main thing is it really works.
It's low-slung, chugging garage-punk with dub sirens, saxophone, steel drums and the vocal return of Clare Gillet from the 'Push On Through' single. All of this sounds like it'd be an unbearable mess, but somehow it's not." (rpm online)
"As his debut solo album, Carrion Repeating, looms ever closer James Domestic releases its third single and maybe the most urgent reason to check out that impending proposition.
A quick reminder that James is a confrontational creative light within The Domestics, Pi$$er, Hazard Profile, Tokyo Lungs and other striking hardcore bred but boldly adventurous ventures. It is that appetite to push and explore his creativity which is making Carrion Repeating one eagerly anticipated encounter for a great many, that and the fact that his trio of singles so far have proved an imagination stoking triptych of temptation and unpredictability.
Each song unveiled so far have been as unique to each other as they are to anything he has been behind in his career so far, the tapestry of flavours he embraces to his punk bred heart stretched again by Mañana. This time around he aligns garage punk and post punk with lo-fi induced R&B, ska and quirk pop equally lured into the infection loaded incitement as with dextrous character James shares his reflection; a presence akin to a hybrid fusion of Ian Dury, Brian Brain (Martin Atkins) and Mark Perry.
Mañana rises on warning sirens, their tone dissipating into a welcome for the low key but instantly infectious stroll of the song. Guitar and rhythms quickly manipulated as they sunk under the skin, James soon in their midst with his procrastination on idleness and putting things off; delight and disdain entangling in his consideration.
Repeating her alluring presence within previous single, Push On Through, Clare Gillett courts the track's contagion with her own warm vocal enticement while the heat sharing flames of sax provided by Eddie O'Toole (Pi$$er/The Filaments/The Shitty Limits) compelled even greater hunger as equally the steely dance of keys.
It all went to make it our favourite track from Mr Domestic so far, he surprising and enthralling once again with Mañana and only increasing the impatience brewing for the release of Carrion Repeating." (Ringmaster Reviews)