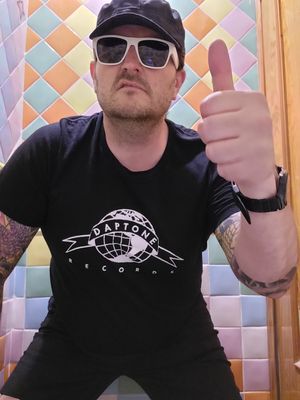 Mornin'! 
Today (18th) sees the start of a pre-order for a new limited edition 12".  It's a 5 song (21 minute) mini album by Domestic Curse, which is me and John Hewson (AKA Curse). The record is officially out on 30th November, so will likely be shipped around the 28th-ish. 
We've known each other for years as our respective bands have played together in the past, and finally our slow burner of a collaboration has come to pass on lovely shiny black vinyl, and it's called The Five Curses. 
This is what it says on the Kibou Records website: 
"Musically, we're in electronic overload…think throbbing, whirring, and rattling synths, thumping kick drums, skeletal drum 'n' bass, chest-thumpin' bottom end, and raw punk vocals in a long-form almost-stream-of-consciousness style; sneering and barbed.  
Lyrical targets include perpetual timewasters, thick-as-shit fascists, mid-life crisis melts, coked-up estate agents, serial exaggerators, and a culture that sees us annihilate ourselves on the regular as a means of fleeting escape.  All get a full-on verbal tongue-lashing. 
Dirty squatted warehouse music for clued up punks. Crank it waaaaaay up, ya cunts!" 
As far as I'm concerned, it's as punk as fuck and I'm so pleased with how it's turned out.  We've been working on these songs for several years on and off (in fairness probably more "off" than "on" as various major life events halted progress for many months, many times). 
Please grab a copy of the record here, here, or here. 
There's also a video for one of the songs, Marching On, here:
The 12" is also available from: 
Cimex Records (Sweden) 
Guerilla Vinyl (France) 
Autonomonster Records (UK) 
Charlie's Big Raygun Records (UK)