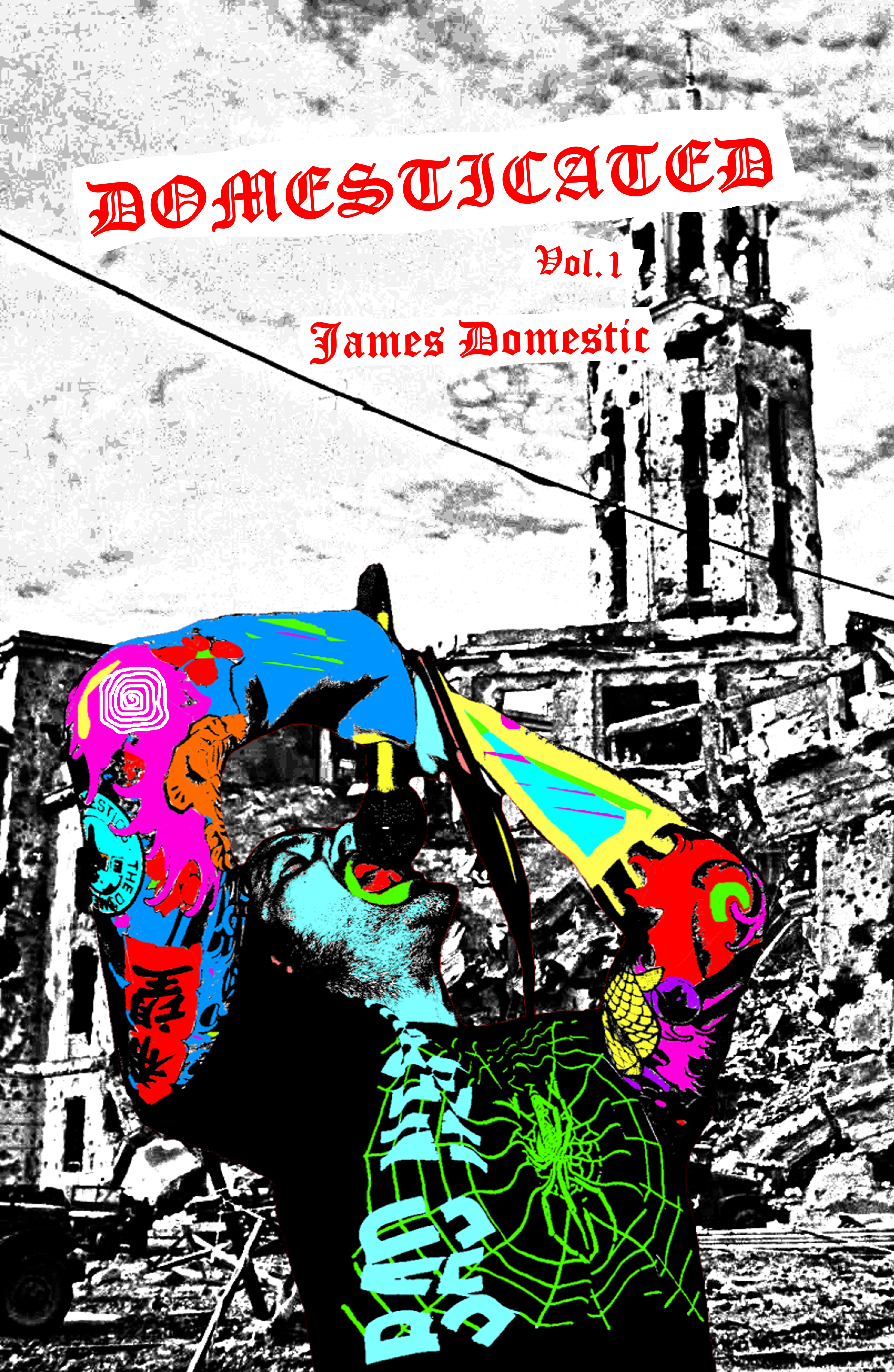 Woah!  Second mailout in a week (don't worry this ain't going to become a habit)! 
But, as you will have hopefully seen already, my new book, Domesticated Vol.1 is available on pre-order now from Earth Island Books here. You should get one; you might like it! 
AND…DRUM ROLL……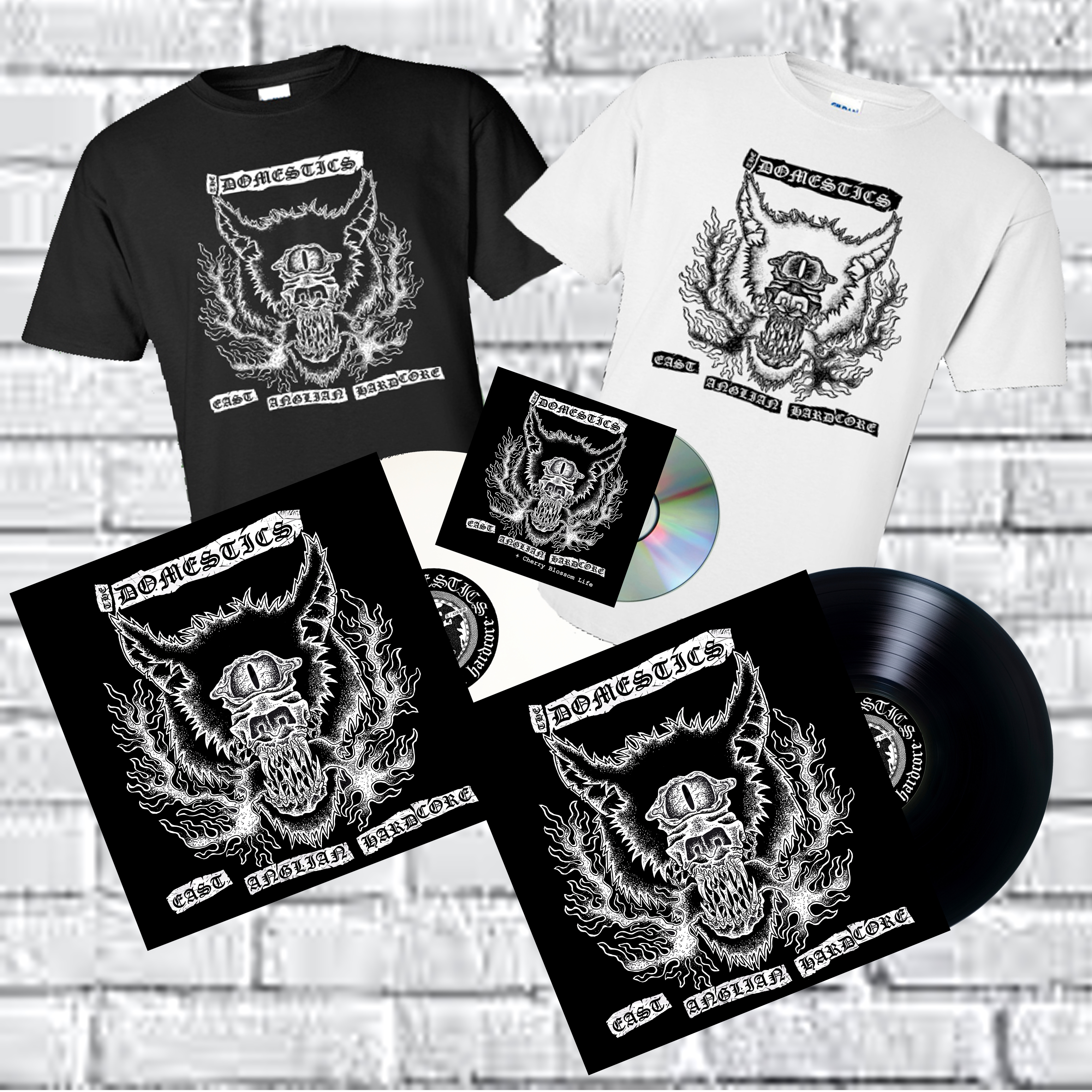 New The Domestics Album: 'East Anglian Hardcore'
The long-awaited new album from The Domestics is up for pre-order from TODAY!!!  It's called 'East Anglian Hardcore'* and you can get it on vinyl (black or white) or CD.  The CD version also has our previous album, 'Cherry Blossom Life' on it, as that's only ever been released on vinyl and is sold out anyway.  The vinyl version of the album comes with a 16 page A4 lyric/artwork book, which also includes the chords to all the songs…I (eagerly?) await a tidal wave of cover versions – HA! 
New 'East Anglian Hardcore' T Shirts 
There are also new t-shirts (again, black or white), with the album cover artwork on the front and a cool new backprint on the, er, back. 
New 'East Anglian Hardcore' Patches 
Not only that, but there's a new 'long' patch which will look great on your jacket, or anywhere else you care to put it.  Only £2.50 (and with free postage if ordered with anything else!).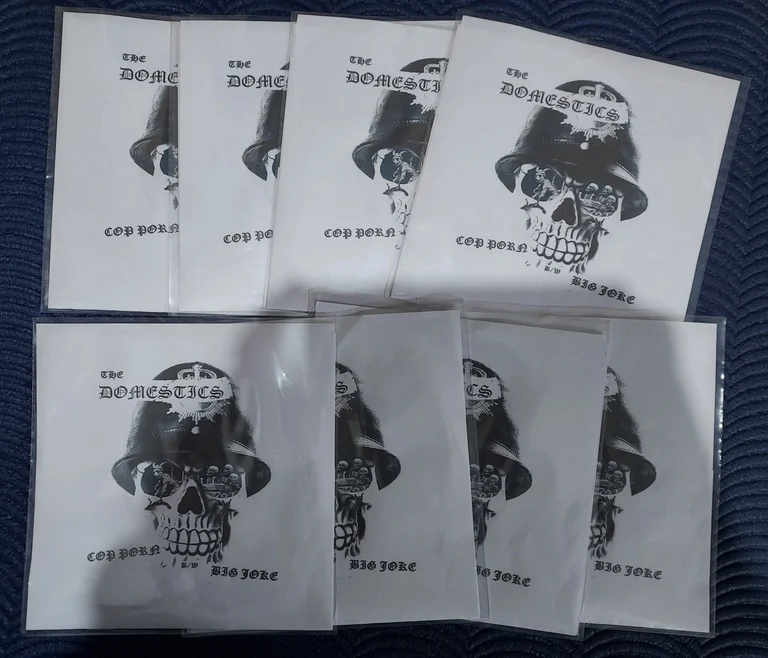 Fun Competition! Win a 7"! 
FINALLY, there's a fun competition draw to win one of just 8 (yes, you read that right! EIGHT!) 7"s.  You get one entry ticket into the prize draw for each CD or vinyl copy of 'East Anglian Hardcore', or 'East Anglian Hardcore' t-shirt you order during the pre-order period. 1 item = 1 ticket, 2 items = 2 tickets, 3 items = 3 tickets etc. – as many as you want! The one caveat is that once your name is pulled out of the hat and you've won a copy of the 7", that's it – you can only win ONE of the 8 7"s.  This seems fair and gives people a chance to win one. It's a bit of fun; let's not be dicks about it.  
OK, that's enough for now.  Go and get some East Anglian Hardcore goodness into your lives! 
*It's the best thing we've ever done.  Of course, I would say that.  But it is!