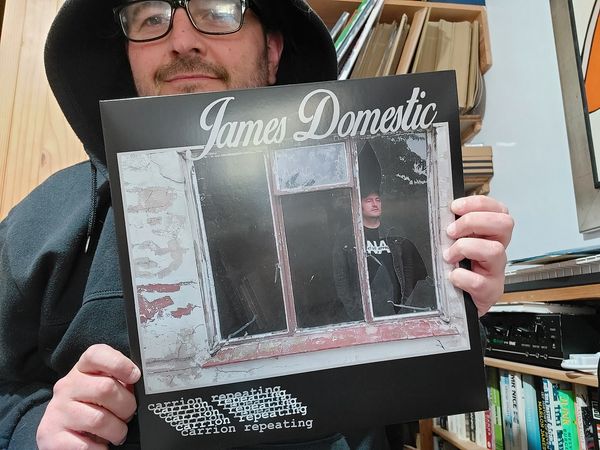 Mornin' All 
After 2+ years of avoidance I finally caught the 'rona, so am feeling pretty shitty and typing this in bed.  The Domestics were supposed to be playing in Southampton last night, Bristol tonight, and Brixton on Sunday, but of course that's all screwed now. Ugh. 
Anyway, as you may have already seen, 'Carrion Repeating' was finally released on Friday and is getting rave reviews all over (so far! Never count yer chickens!) – just off the top of my fuzzy Covid-head, check out those on the Personal Punk blog, The Ginger Quiff site, The Ringmaster Review, and the 8/10 review – and separate one page article - in the current issue of Vive Le rock magazine (available at all good newsagents or online here). 
There's a new video out for 'Bean Counter' off the album too – you can watch that here.  
So yeah, from what I've seen so far people are diggin' the record. Grab one if you haven't already – it might cheer me up a bit in my sick bed. Cheers to everyone that pre-ordered. 
COMPETITION NEWS: 
Subscribers will be getting an email within the hour about a competition to win a super-rare test pressing of the album (only 10 of those in the world)…watch your inboxes! It'll be fun I tells ya! 
And the draw for the 5 mini canvases will be done in the next couple of days, when I can find the energy. 
Until next time 
James