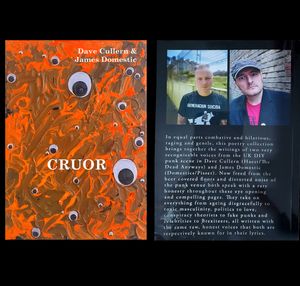 Just in case you were unaware...the Cruor book (co-written with Dave Cullern from Haest), has been out for a week or two.  It's picking up great reviews so far: 
"'Cruor' is a great little poetry book by two British punks; both enraged yet hopeful, but expressive in very different poetic voices. Definitely pick this up if punk poetry is your jam." (The Screever) 
"Two differing styles, both rooted in a tradition of challenging societal norms. Two writers who understand the disciplines required to effectively imbue their respective voices into the medium of poetry. By turns elemental, poignant, melancholic and absurd, this book is rich with the mosaic of life. If, like me, you have a strained, oftentimes sniffy relationship with poetry, I urge you to add this to your meagre collection. It's for real." (Personal Punk) 
"Across 59 poems you get to explore author, their insight, personal thought and simply the intimate world around us through their eyes and experience with greater landscapes also ventured. Both Dave Cullern and James Domestic also lead you to look at your own experiences and thoughts in many ways. You may share their anger, disappointment, joy and laughter with life and as we found will definitely find the richest enjoyment within Cruor." (The Ringmaster Review)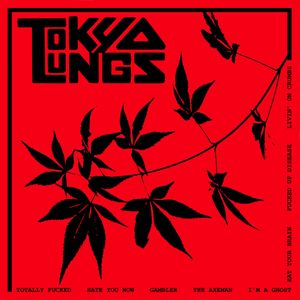 You can grab a copy from this store, or from Kibou Records here or here for a mere £7. 
More info, and a few samples here. 
Plus there are a few video readings on my Instagram 
Check it out.  It's "culture" innit.
Also, one of my bands, Tokyo Lungs has a new record out - a split 7" with Leicester's finest, Feral State - fast, noisy hardcore punk?  Yep! Grab one from here or here for a meagre £5 an' smash yer 'ouse up! I think this is our best recording thus far.
Anyway, that's all.  Over and out.
James