Hey! Stuff's a-happenin'! 
First up, I have a book of poetry on a short pre-order from today.  Well, that's misleading; I actually have half a book on a short pre-order from today, as Dave Cullern (Haest/Toxic Wotsit Records/The Dead Anyways) wrote half of it!
Books will be shipped on, or around, 19th September 2022 (as will anything else on the same order, obviously!).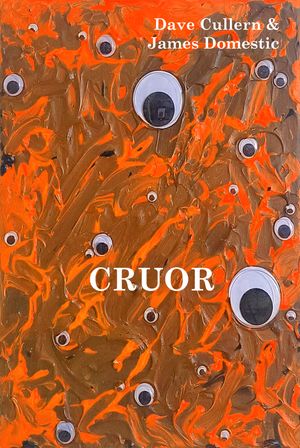 I've had the odd poem published previously, but not for a while, and Dave has had a few books out over the past few years...we thought it'd be cool to team up and do a 'split' book, with each of us writing half each.  The front cover is a section of one of my paintings, which is still available in the store.
In its 100 pages we take on everything from ageing disgracefully to toxic masculinity, politics to love, conspiracy theorists to fake punks, and celebrities to Brexiteers, all written with the same raw, honest voices that both are respectively known for in their lyrics. Some reflective, some downright funny.
Anyway, over the 10 day pre-order period you'll see myself and Dave reading selected poems from the book on our respective Facebook and Instagram pages, if that floats your boat.
With just 100 copies in the first print run, you should probably grab one while you can from here, here, or here.
In other news, one of my side-projects, TOKYO LUNGS, has a new 7" E.P. out - another split actually! We're on one side, and Leicester's finest, FERAL STATE are on the flip.  Just 500 copies worldwide. Pure UK hardcore punk. Fast and raw!!! Grab one here, or here.  You can check it out here (please subscribe to the Kibou Records YouTube channel while you're there).
Cheers!
James