OK, so here's an update on stuff… 
The great reviews keep coming for Carrion Repeating, including in the latest issue of, er, Issue, and U.S. mag, Razorcake.  And plenty of radio play too on Louder Than War, Pulsebeat, Laura Beth's Mixtape Show and more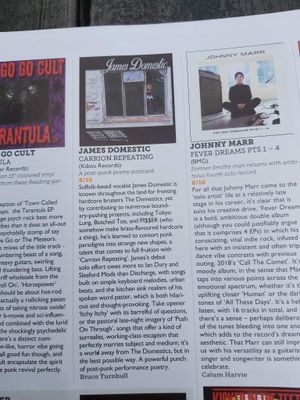 Also, should be in the next issue of Safety Pin magazine, whenever that's out.  Did you see the review and article in Vive Le Rock? Nice to be on the shelves of WH Smiths again!  
This weekend sees me and my noisy compadres, THE DOMESTICS, play gigs in a few places, so if you like fast hardcore punk with shout-along choruses, try one of these on for size: 
Friday 20th May: Red Lion, Stevenage 
Saturday 21st May: The Birdcage (at The Festing), Southsea 
Sunday 22nd May: The Maypole, Derby (it's a matinée and runs 3pm – 8pm so don't be late!) 
After having to cancel five gigs over three weekends due to me/Dan the guitarist having Covid, we're chomping at the bit! I've put on a fucking ton of weight over Covid and am a bit embarrassed by it to be honest, so just remember, an ego this size bruises easily (so you don't need to mention it, OK). Haha! 
ALSO (1)…I've been working on an electronic project with John Hewson, ex-of Essex/Suffolk legends The 5 String Dropout Band (a band that could and should have done so much more but remained a well-kept secret)…the project is called DOMESTIC CURSE and we've just finished the mix on a 5 song, 23 minute 12", tentatively titles 'Five Curses'.  More details to follow when I have some! 
ALSO (2)…I've been working on a book of poetry with Dave Cullern from HAEST and the Breakfast Punx Podcast.  You'll like it; it's good. Details as and when I have them… 
ALSO (3)…new paintings are up in the store and will continue to be added as and when.  Cheers to those of you that have picked one up.  I love doing them, but don't have the space to put them up.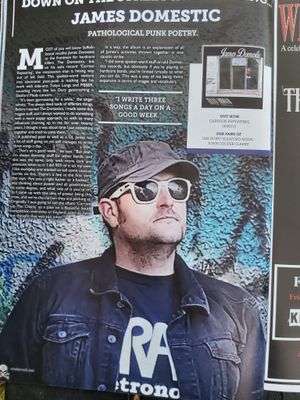 Cheers to those of you that have picked up the record already.  It means the world to me that I'm getting such nice messages from people about it.  Good for the aforementioned ego.  A number of people have said it should be played on BBC 6 Music, but sadly it hasn't been yet!  I'm not saying you ought to request tracks from it from Marc Riley, Iggy, Tom Robinson etc, but if you really wanted to do that I wouldn't be against the idea. At all. 😉 
Right, that's it. 
Laters 
J